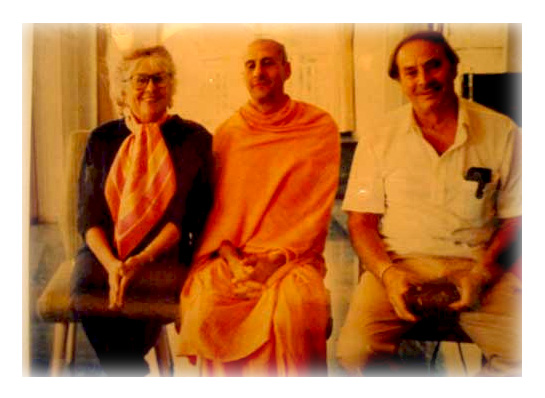 Radhanath Swami
"Our little Richie (later Radhanath Swami) is sweet but so strange. Why is he like this?" Gerald and Idelle Slavin often wondered why their little son had strange habits like refusing to sit in chairs, while eating, making his mother wash his clothes again and again until they became old or scraping his new shoes with rocks till they looked worn, sitting on the floor of the backseat of a new car. Radhanath Swami explains that having better things than others made him feel embarrassed. Such was the unusual childhood of Radhanath Swami, who upon reaching the end of his teenage years embarked on yet another unusual quest – an overland journey from Greece to India. In this search for the true meaning in life, Radhanath Swami realized that the best things in life connect all of us to God and far from feeling embarrassed about them, he is sharing them with everyone.
Swami Prabupada, the famous Vaishnav monk, who founded the Hare Krishna movement in the West, accepted Radhanath Swami as his disciple in the early 1970s and from that time onwards, Radhanath Swami has pioneered the establishment of monasteries, schools and a Hospital. Radhanath Swami inspired the Mid Day Meal scheme project to provide free nourishing meals to more than 200,000 underprivileged children in Mumbai, India. Barsana Eye Camp is another initiative mentored by Radhanath Swami which helps them restoring vision of up to 1000 patients every year from poverty stricken families in the most economically backward parts of North India. Further details about Radhanath Swami's life can be found at
www.thejourneyhomebook.com
. He travels around the world and frequently lectures throughout the United States and Europe. He is based at Radha Gopinath Temple in Mumbai, India.